South African Hunting Safari Operator Linked to Illegal Rhino Horn Trade and Thai Strippers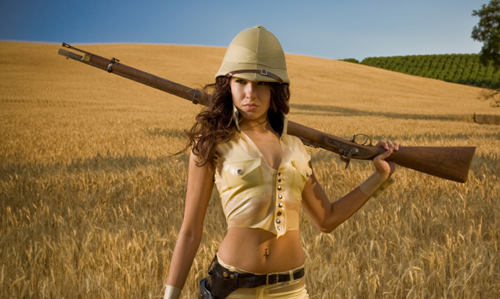 A seemingly endless supply of links between trophy hunters and the illegal rhino horn trade.
It was revealed today by South African media investigations that safari operator Marnus Steyl is believed to be a major player in the rhino horn trading racket involving Thai national Chumlong Lemtongthai.
As part of the trophy hunting scam, young women from Thailand were reportedly trafficked into South Africa to pose as "rhino hunters" and to work in "brothels and strip clubs".
'Paper trail' shows connection between Steyl and Lemonghai
Earlier this month, Lemongthai was arrested for allegedly laundering rhino horn for the illegal market with trophy hunting permits. He arrived in South Africa in June 2011 with an "order for 50 sets of rhino horn" in hand.
The Media24 investigation uncovered a paper trail of business transactions and photographs which establish that Steyl was supplying rhino horns and lion bones to Lemongthai's employer, Xaysavang Export Import, based in Laos, Cambodia.
In a letter dated October 30 2010, Steyl confirmed that "Steyl Game CC helps to organise and conduct hunting for clients of Xaysavang Trading Export-Import co Ltd of Laos" and "assists with the export of predators, wild game, antelope and exotic species like rhino, lion, sable and roan antelope".

On November 16, Xaysavang was invoiced a total R1.3m by Steyl Game for 22kg of rhino horn. A month later, an amount of R434 000 was invoiced for "3 rhino".
It was also noted that Steyl "owns or has interests in farms and businesses in the Free State, North West Province, the Eastern Cape and Abu Dhabi".
Human trafficking
The Mail & Guardian sheds further light on the unsavory situation, and links the syndicate's activities to human trafficking.
Usually friends were called in, or Thai women working as strippers and prostitutes were paid R5 000 to do the job. They were provided by a Midrand, Gauteng, woman wanted in Thailand for human trafficking. Their passports and fingerprints were needed to complete the necessary hunting permits and Convention on International Trade in Endangered Species paperwork.
A Vietnamese national, Vixay Keovang (aka Vixay Xaysavang) has also been named as a leading figure in the syndicate.
And then there's Groenewald
A key investigator on the case told the Mail & Guardian that Dawie Groenewald is connected to the Steyl-Lemongthai operation.
Yes, he's at it as well, just with another syndicate that also traces back to Lemtongthai's boss.
Despite facing charges of assault, fraud, corruption, malicious damage to property, illegal possession of firearms and ammunition, and contravention of the National Environmental Biodiversity Act, Groenewald is apparently back in business.
He recently sold nine rhinos to a South African game rancher, who is already tied to a professional hunter, arrested twice for involvement with similar trophy hunting scams.
A hunting permit was also issued to Groenewald, allowing him to legally kill rhinos.( Take a look at copies of the permits here.)
Both Steyl and Groenewald have reportedly denied any connection to Lemongthai.
http://www.rhinoconservation.org/2011/07/21/south-african-hunting-safari-operator-linked-to-illegal-rhino-horn-trade-and-thai-strippers/